€645,00
Price including 19% VAT.
Climate neutral shipping in recycled packaging.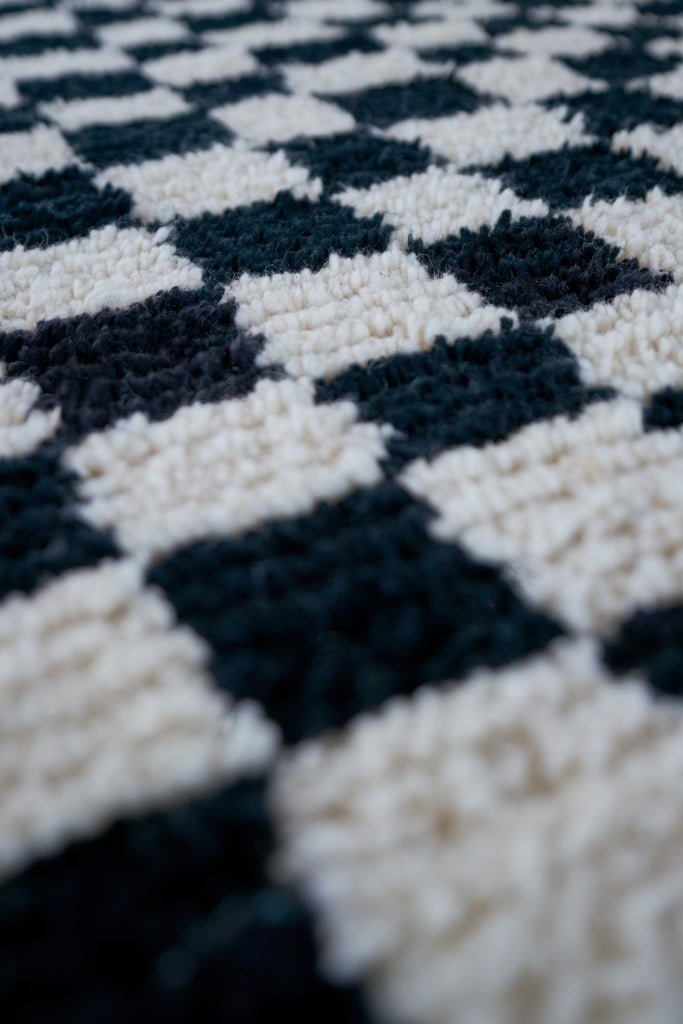 Attention: This is a second-rate quality rug. Please read description below. We offer this rug for 50% off, but do not accept returns on any of these rugs. With the purchase of this rug, you agree to these conditions.
Sizing: 200cm x 305cm
WHY SECOND CHOICE? 

All of our Hand in Hand Rugs are made individually for each and everyone. Every Rug is woven by hand, so naturally some minor mistakes can occur during the production process.
Mostly the rugs arrive in a wrong color but are in perfect condition or some might be slightly uneven in the pattern. As we believe that these mistakes make these rugs even more unique and enhance the hand-made character we don't want to hold them back, but more so think they will make a great new roommate for you to enjoy.
Your are not only getting a cozy new roommate, but also are contributing to sustainability by fighting waste and buying something that already exists. 
ABOUT OUR CHECKMATE RUGS

Let's bring some JOY into your home with your new favourite roommate: The Checkmate rug!
It is just what your house needs: a perfect mix of traditional craftsmanship and modern design. Something that catches everyone's eye but still features a simple pattern so that you will take pleasure in it for a long time. Each rug is designed by our Hand In Hand founder Cloudy Zakrocki in consideration of classic aesthetics and current trends. Our creamy Checkmate rugs feature the perfect off-white in combination with another soft color, making it possible for you to enjoy the checkerboard pattern without going all in – but still giving your space more character. They are simply as sweet as your favourite ice cream flavour.
This amazing Checkmate rug is made of 100% natural sheep's wool which has been animal friendly sourced and naturally dyed. There are plenty of benefits when using this natural and raw material: it cleans your air so is perfect against allergies, it is extremely durable so you'll have this rug forever, it resists staining and soiling, it is a natural insulator, it is locally grown, sustainable and fire-safe, which makes it great for every room of your house, even kitchens and children's rooms. If you want to learn more about the fabric and its benefits for you, check our FAQ page. 
All Hand In Hand rugs are woven by hand (!) by artisans outside of Casablanca. The artisans are experts on this very traditional knotting technique (which some of you might know from the Beni Ourain rugs that were so popular some years ago) and craft each rug individually for you. What is most important to us: The artisans receive a fair salary for their work and child work is strictly forbidden. This is why we hand-selected the manufacturer we are working with, guaranteeing safe and ethical work environments as well as above-average fair pay.
The Checkmate Rug is definitely a one of a kind piece that will be your favourite new roommate, promised! For more information, please check our worth knowing FAQ section or send us an email.
Yours truly, Cloudy X 
Material: Animal friendly sourced and naturally dyed 100% sheep wool (check FAQ page for info on the health benefits of sheep wool for you)
Produced: By hand
Colour: Black and White
Sizing: 200cm x 305cm

Shipping: As these Rugs already exist, the shipping will take up to 5 Days. 
Returns: We really hope you are happy with your order and want you to regard this item as a new roommate of yours that brings joy and comfort to your home. As this item is a second choice item, some minor imperfections can be found and should be considered before buying. As the rug is made by hand by local artisians it is non-returnable and non-refundable. 
We truly believe we as a society need to rethink our common purchase-and-return behaviour. That being said: By purchasing this item you are supporting local artisans and help to keep their amazing craftsmanship alive. This is what Hand In Hand is about: Collaboration, craftsmanship, and support. Thank you for supporting our mission.